Mistresses' Blog

My friend Mistress Eleise De Lacy now has a shop on her website where you can purchase her shoes and more intimate apparal. If you wish to purchase from her website shop send her an email saying that Mistress Veronica sent you and you will receive a bonus gift of something special from her.




 
My recent travels took me to Berlin, where I teamed up with Lady Mephista, Cybill Troy and her accomplice Hannah Hunt and to Stuttgart, where Lady Valente and I served up a plethora of sessions, on film and in private. Amazing footage from all these highly talented and sublime Dominas will be featuring soon on FFF. For now, here's a brief glimpse of just some of what's to come...



Cybill Troy's reputation goes well before her, a highly respected and experienced Domina based in Los Angeles. Her genuine enthusiasm for Female Supremacy and her uncompromising style in session was a joy to experience first hand and will be a special treat for our members over the coming few weeks.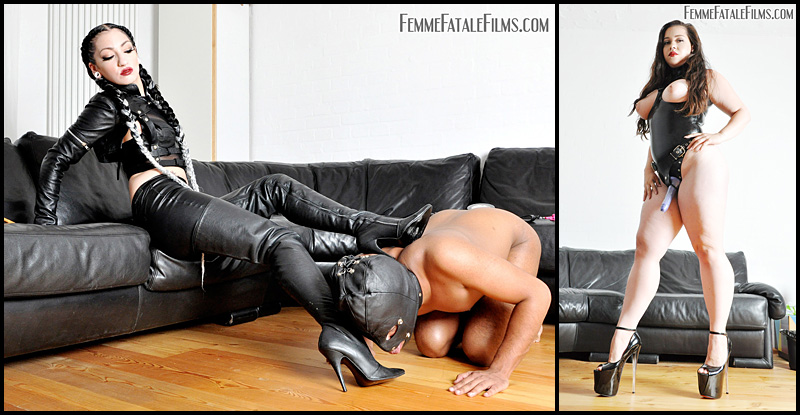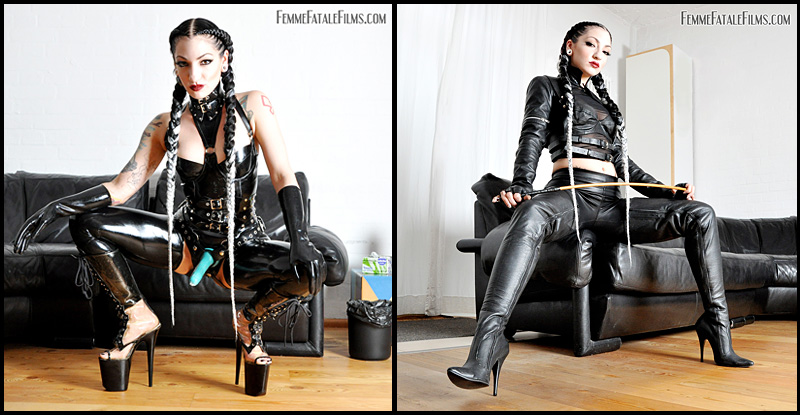 Cybill Troy in the forthcoming title 'Cybill's Way' and Hannah Hunt, ready for strap-on action.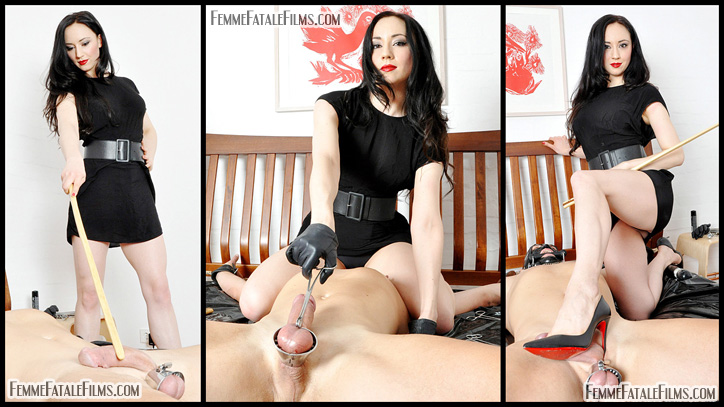 Lady Mephista in the movie 'Pain To Cum', now showing in the members area. Lady Mephista is based in Berlin, but travels around Europe regularly in her pursuit of Female Dominance. From the very first moment we met, I could see exactly why so many fall for her assertively seductive charms. The first scene we shot on a bondage bed with one of her most devoted personal slaves. The action is extreme, yet the calm and mesmerizing way in which Lady Mephista gets the best out of her slave was magical to watch.
The Hunteress is back with Cate Fury to have some ball busting fun with her gimp slave
e




Thanks to my beautiful friend Mistress Eleise De Lacy I now have a new dungeon to use in South West London. If you would like to come and serve me at my new location you must send a respectful and literate email to mistress.veronica@realstrictwomen.com detailing your requirement. You should note that I do not offer any sexual services, if sex is what you require you should find yourself a hooker. Crass or requests for sexual services, blood sports, hard sports, needles and electo torture will be ignored.
I'm delighted to announce that The Hunteress has returned to the FFF limelight and in amongst the excitement is a dream ballbusting session where she teams up with the incredible Cate Fury. Not for the feint hearted, this develish duo serve up a kick-storming session that will leave any ballbusting fan weak at the knees!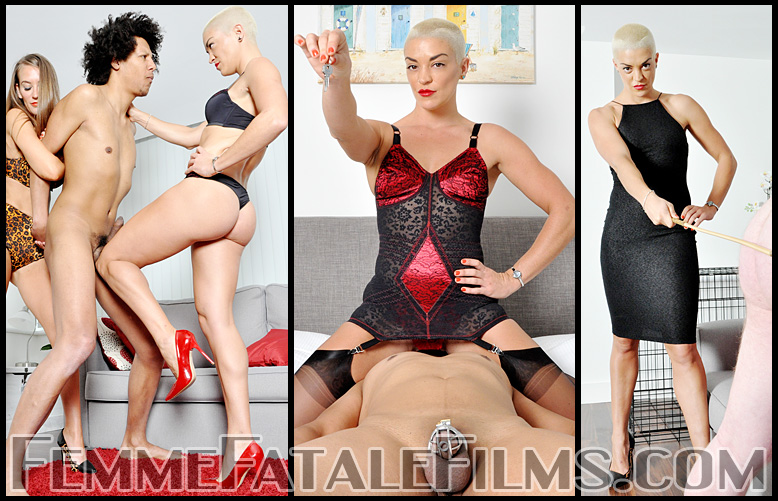 Face sitting, extreme corporal punishment (including a truly awesome bull-whipping scene!) chastity torment and a good hard pegging all feature in the soon-to-be released Hunteress and Cate Fury movies. coming exclusively to FFF. But that's not the only exclusive this month for FFF members...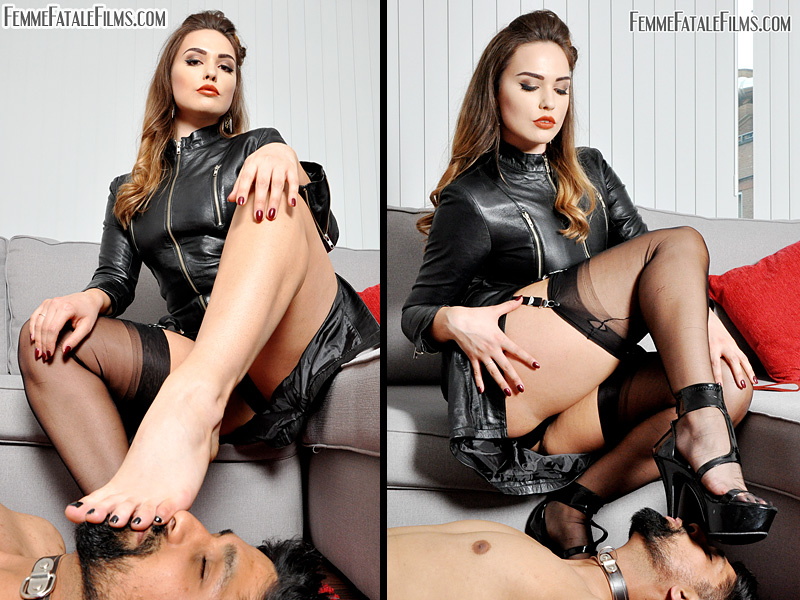 Mistress Serena made her FFF debut with a collection of sensuously explosive scenes, the first of which premieres this coming Saturday. If you love FemDom, you will not want to miss this incredible Domme in action!!!
The images below are taken from Mistress Serena's debut title, 'Heaven Scent', with the first part showing to members this coming Saturday. The slave is used for his Mistress's entertainment as she toys with his most sensitive parts, starting with his nipples, before electrifying his cock and balls, all the while sat firmly over his face. The more she teases and torments, the more desperate he is to worship. She decides to let him worship her perfect bottom, but the orgasm this quickly induces, means there is a significant price for him to pay...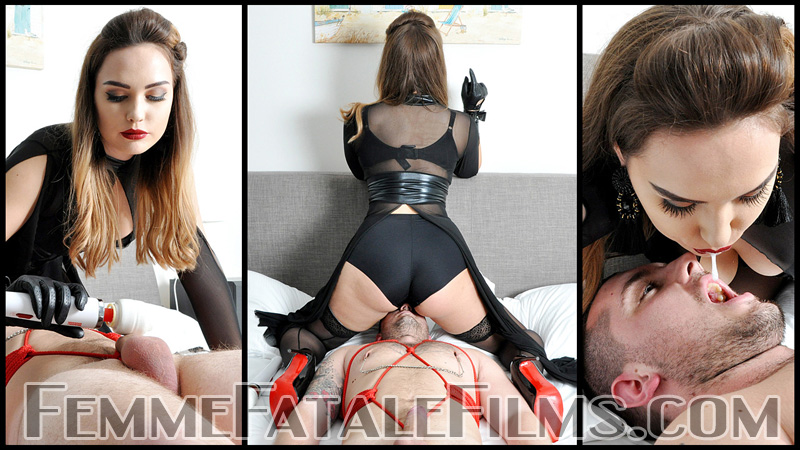 In the vanilla world, spitting is often described as a loathsome habit and certainly not an activity the vast majority would associate with sex, other than the obvious lubrication applications. How things differ in the world of FemDom... In stark contrast, many of my slaves consider it one of the most exciting and addictive activities, ever begging for more of my saliva, sensuously spat from my mouth to theirs.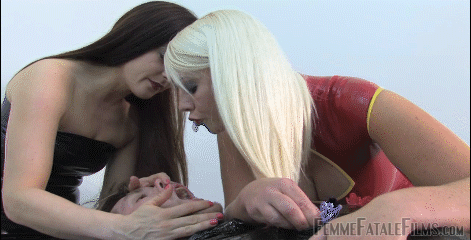 I have always considered it an intimate interaction, a slave kiss, allowing a slave to taste and consume a part of me is a special honour that only a very few might experience.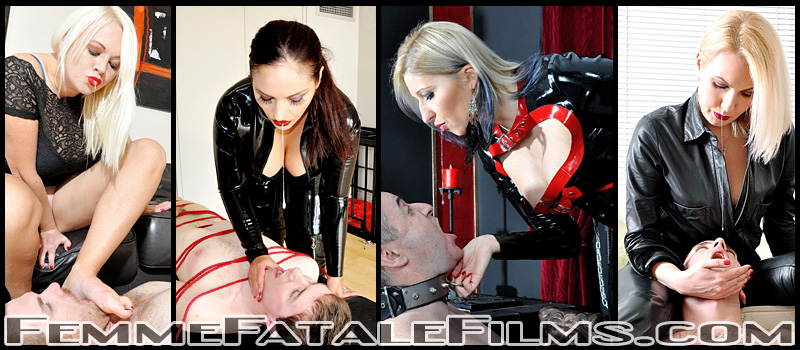 For the boot fetishist, I love to help lubricate hard working tongues by spitting directly on the leather where they are working. I find it most erotic seeing a devoted slave cower beneath me, eagerly lapping up my spit, feeling their adoring tongue pressed firmly against my boot leather.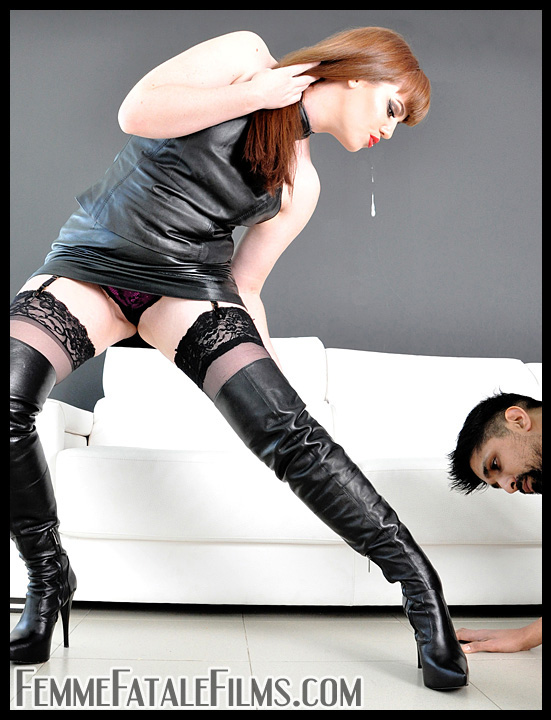 Of course it can be used to humilate if not dribbled directly into a slave's mouth, but sprayed at their face and combined with a few hard face slaps it can quickly focus an errant slave mind!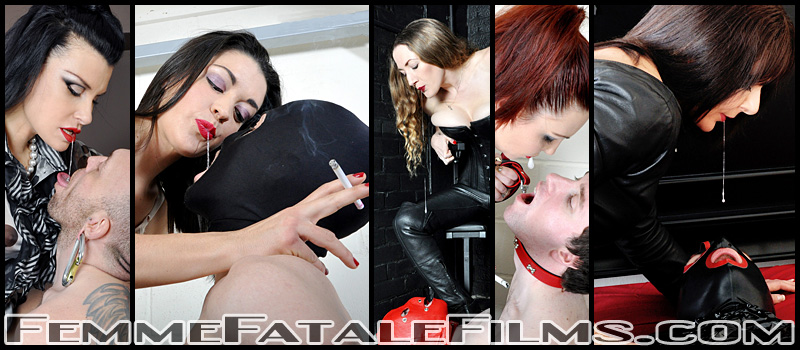 Spitting has always been one of my favourite activities and I know many of my Mistress friends feel the same here at FFF. The members area is already dripping with a plethora of kinky spit movies and you can be assured there will be many more to come!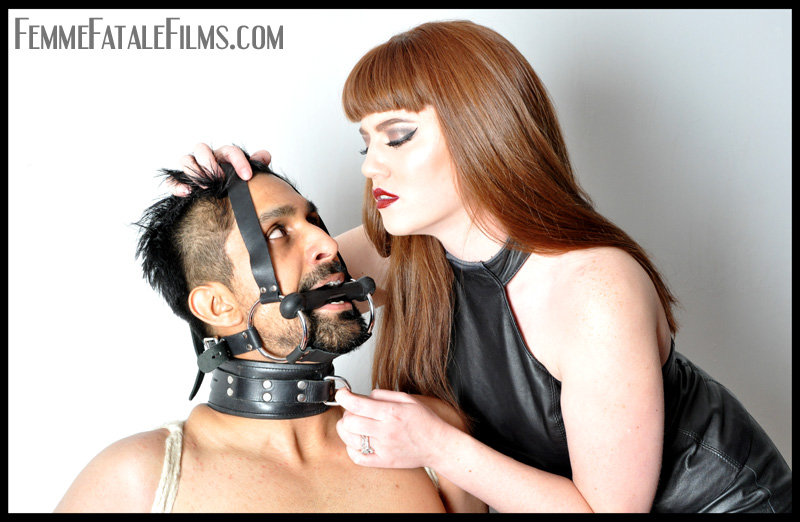 Our latest shoot action sees Miss Zoe like she's never been seen before! Sensual domination with style, authority and a creative flair seldom seen in FemDom! Amongst the plethora of deliciously kinky scenes was an interrogation plot, where Miss Zoe psychologically and physically breaks down her victim. This combined with a number of intensely sensuous, yet startlingly cruel scenes make for a truly wonderful variety of new and exclusive movies featuring on FFF over the coming weeks. Just a few select teaser images from these movies are shown below...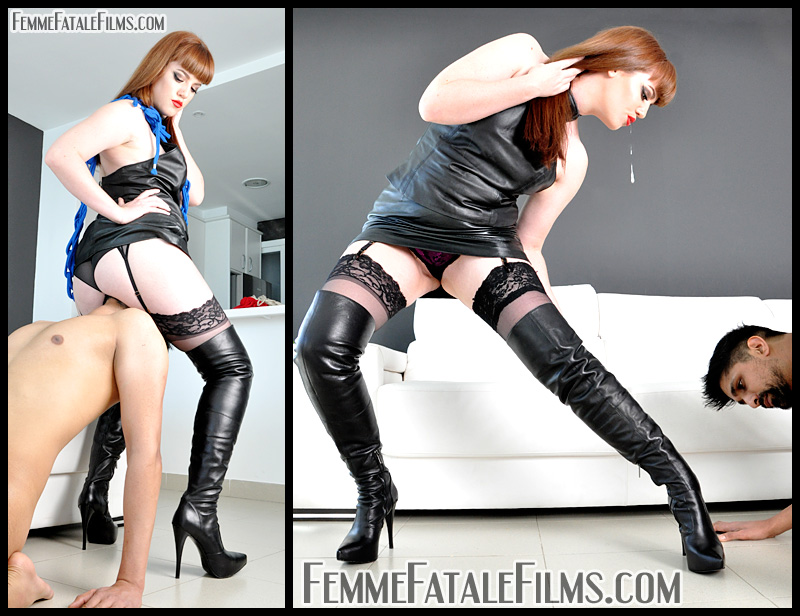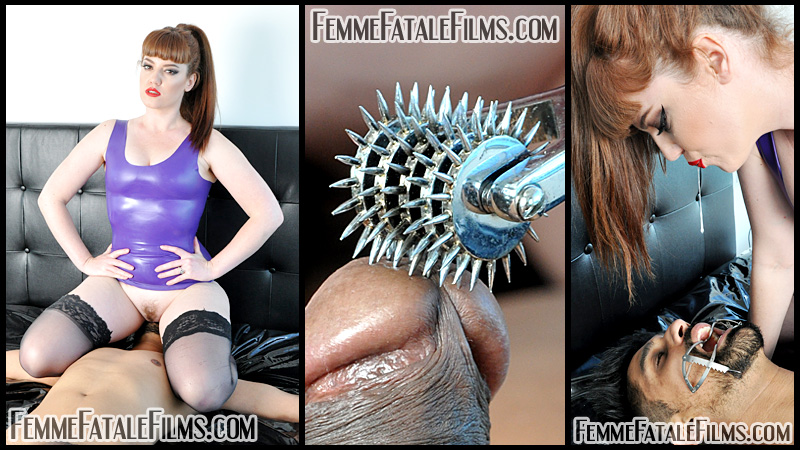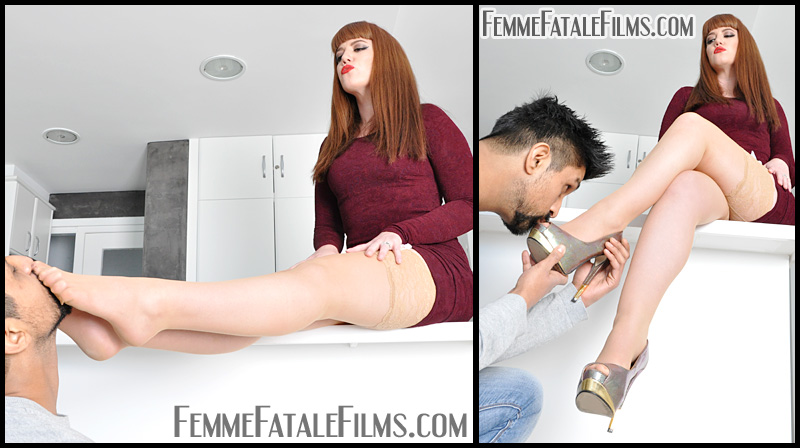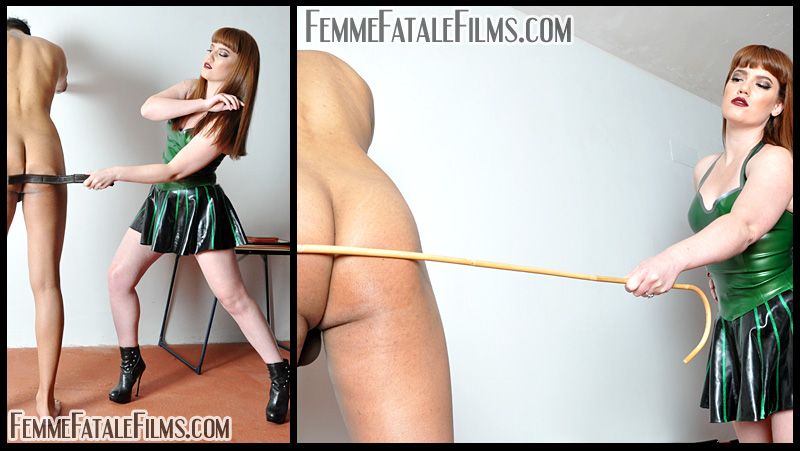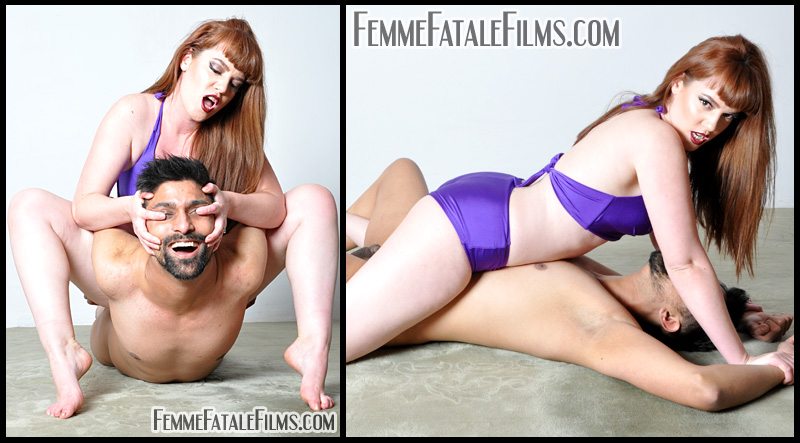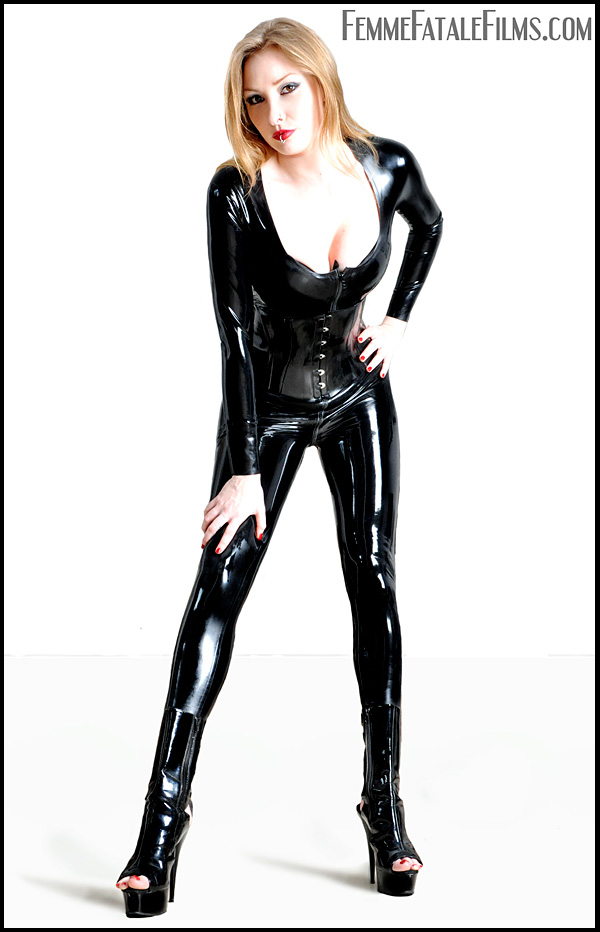 Earlier this month I had the pleasure of meeting up with the wonderful Domina Hades, a strikingly beautiful Domme with a genuine enthusiasm for all things FemDom. We filmed a number of scenes at a gorgeous villa deep in the heart of Spain and the action reflects the reality of life for the slave in attendance, this over a period of five days or so. For the entire vacation, the slave was not allowed to sleep in any of the numerous spare bedrooms, instead he was confined to a space beneath the stairs in the hallway, but he was given a somewhat thin mattress to sleep on and a regular supply of dog biscuits to keep his strength up.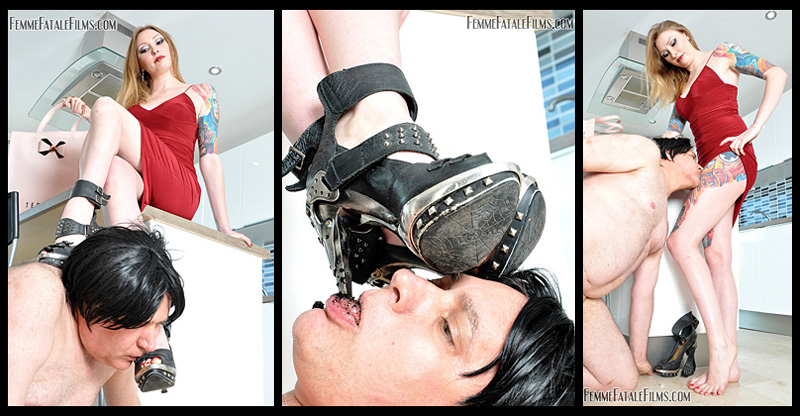 The stills above are taken from the movie 'Hades Humiliates', just released to our members, where you can see Domina Hades thoroughly degrade her slave. From the very moment she returns home, with extremely muddy heels, his humiliation begins! They say the camera never lies and this is most evident in this scene, where the physical and verbal cruelty inflicted on the hapless house slave are clearly the real deal.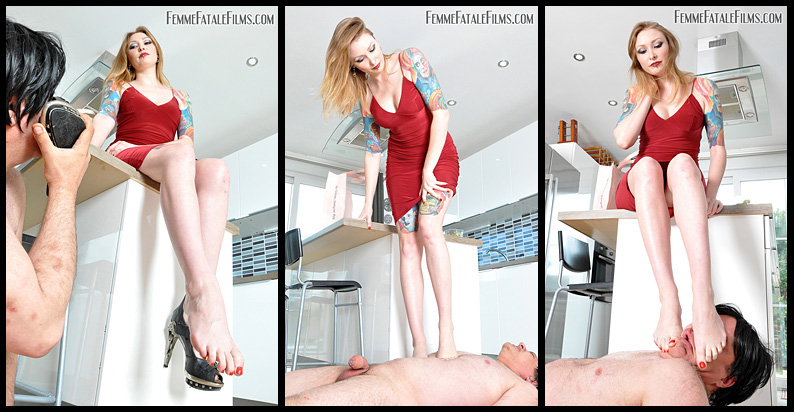 Sweaty shoe sniffing, foot worship, spitting, trampling, face slapping and smothering all feature heavily in this scene. A FemDom connoisseurs delight! Further scenes include using the slave as a human ashtray, dog training outdoors, a severe caning session, and a spitting cocktail for slave consumption with myself and Hades teaming up to give the slave double the trouble.
During 2016 we shot some great scenes, with some incredible Dommes. There are way too many favourites to mention here, but I've selected a few which excited me and I know from member feedback excited many of you too!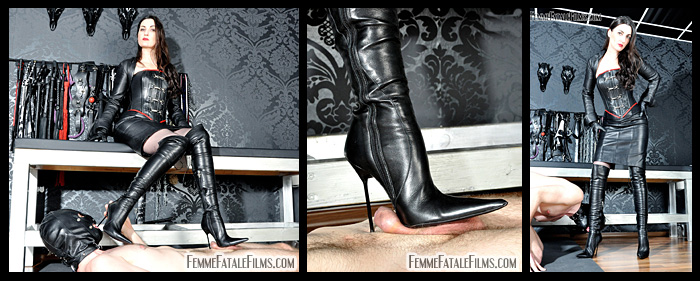 Leather Goddess - Lady Victoria Valente

Rip It Up - Lady Renee

Heels & Nylons - Divine Mistress Heather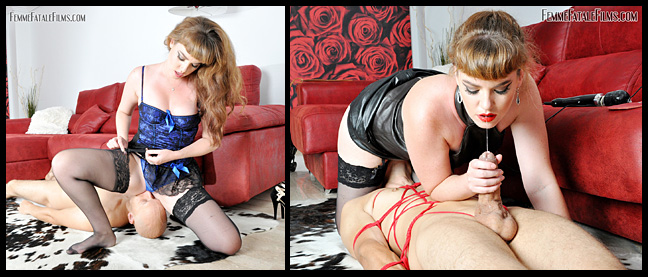 Heat Of The Moment (Left) & Sexual Slavery - Miss Zoe

Sensory Leather Perception - Mistress Akella

Taste the BullWhip - Mistress Johanna

The Cum Board - Divine Mistress Heather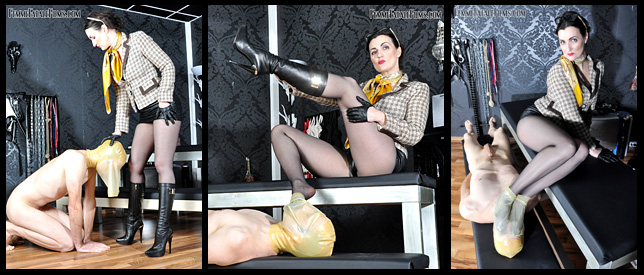 Cheesy Foot Hood - Lady Victoria Valente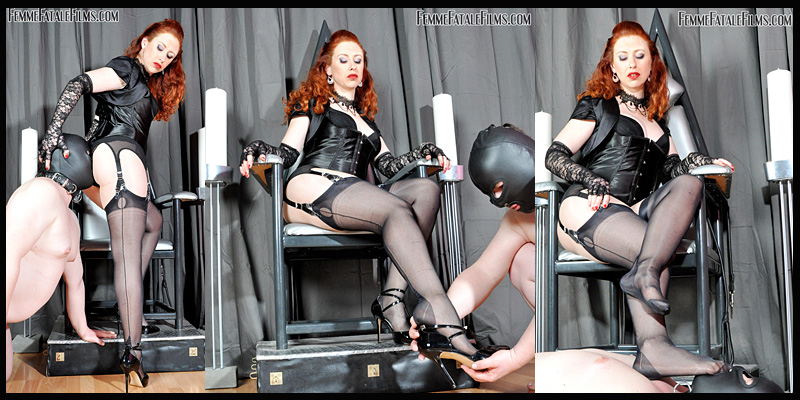 Foot Suck & Wank - Lady Renee

Boot Domination - Sara Volts & Divine Mistress Heather

Anal Monsters - Lady Renee

Akella's Pain Slave - Mistress Akella

Boot Reward - Divine Mistress Heather

Anal Check Up - Lady Devin James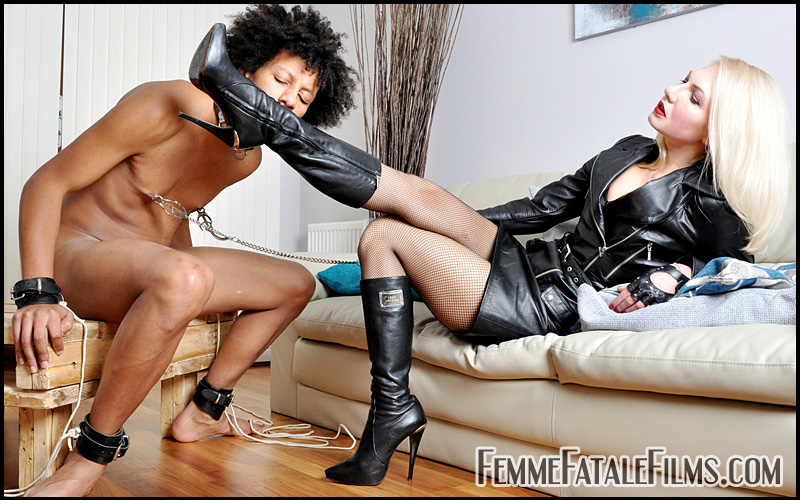 It is always a great pleasure to welcome Mistress Akella back to Femme Fatale Films and our latest collection of sessions demonstrate just how sensually sadistic the great lady can be! As our regular members well know, Mistress Akella doesn't fake anything and her genuine enthusiasm for donning fetish attire and seeing her adoring slave victims suffer in their irristible desire for her, is clear to see!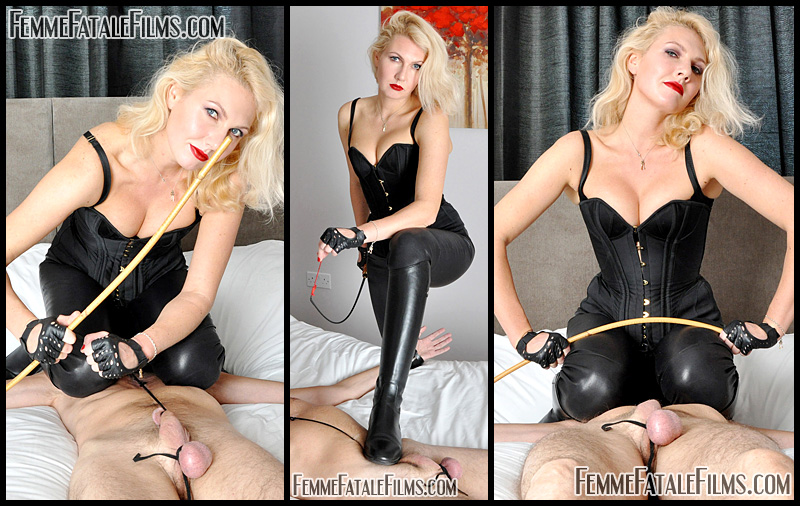 Amongst the fine collection of scenes was a brutal cock caning. a few images as captured above, which included no less than three hundred and sixty five strokes! Smothering the slave's face with her perfect leather clad ass as she administered the strokes may have been somewhat sensual for him, but served as an appropriate method of muffling his protestations and preventing him from squirming too much!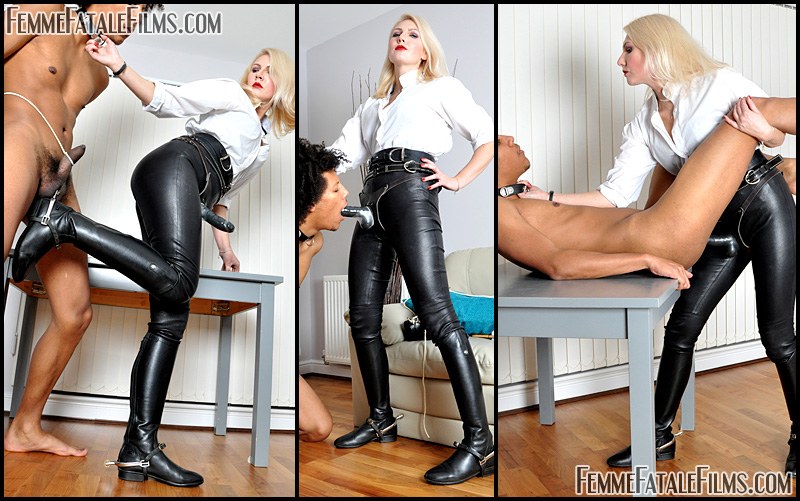 Ballbusting never fails to light up Mistress Akella's eyes and with a little boot spur digging, the ordeal was that much more challenging for the slave, all before he was taken from behind and fucked hard and fast.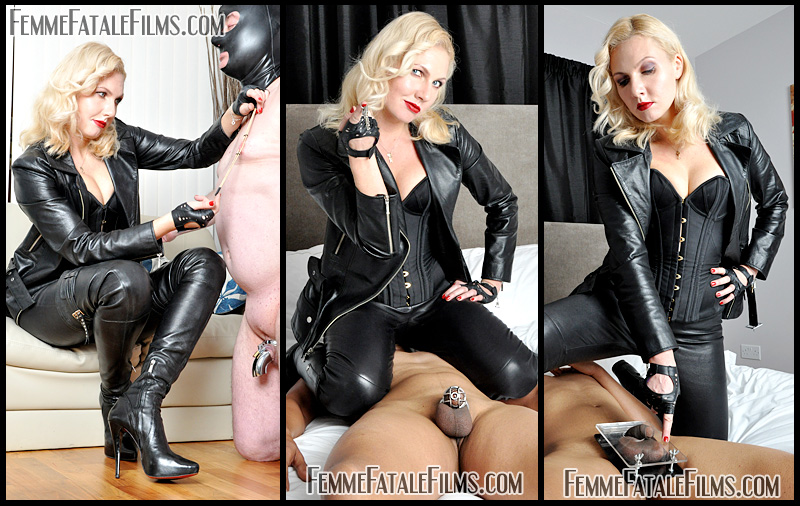 Serving as a chastity slave for Mistress Akella is a great honour, but a most frustrating ordeal for any slave, so when release is finally granted, the distraction of having your balls crushed does little to hold him back, but does serve as great amusement for his Mistress, making the experience a deliciously wicked cocktail of pain and pleasure.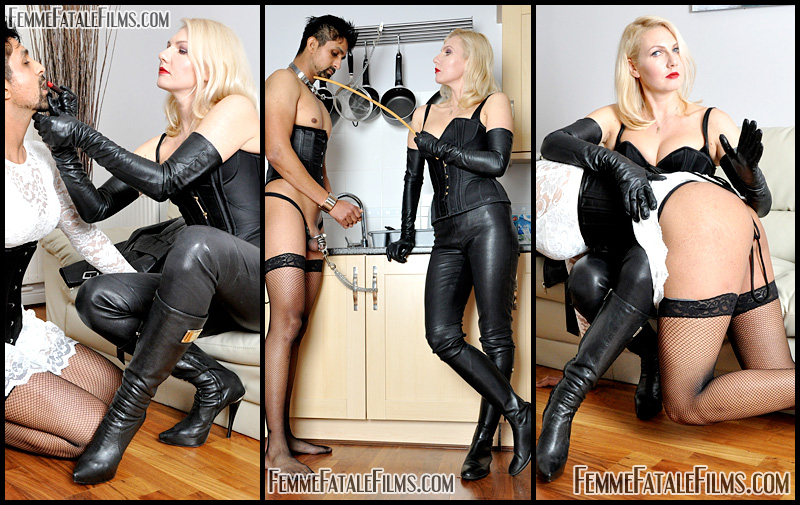 A wealth of incredible Akella scenes await our members over the coming weeks, with these images just a small selection of the scenes to come.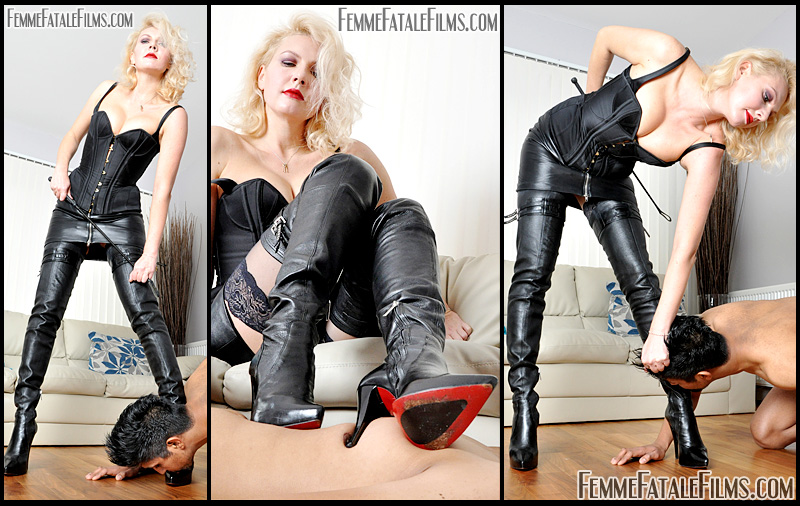 Goddess Vea Luz makes a stunning debut on FFF this month with a delicious selection of scenes, starting with the launch of the movie 'Love My Feet' today, something which any mere mortal couldn't possibly fail to do! Her passion for S&M play is self evident and her genuine enthusiasm and belief in female supremacy is clear and captivating.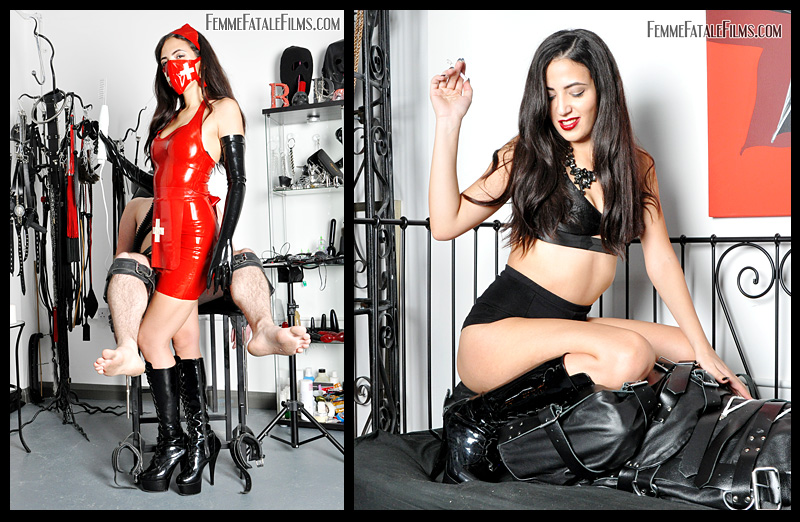 The session play was extremely erotic, yet sensuously sadistic, as the glint in her eyes as her slave squirmed beneath her feet revealed.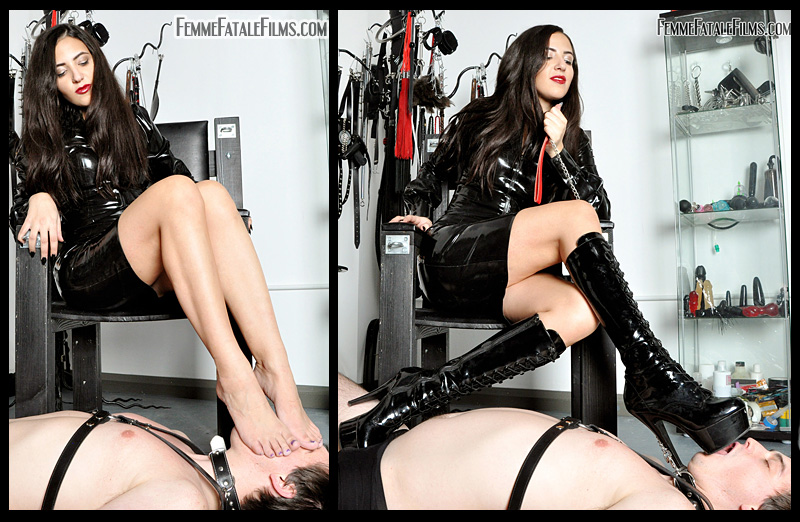 Just a few of the activities Goddess Vea took delight in are shown in the images above, all coming very soon to FFF!



Divine Mistress Heather
While much of her time is spent running Femme Fatale Films, Mistress Heather does make time for her personal slaves but rarely does she accept sessions and momentary encounters. Mistress Heather has been back to London a number of times the last couple of years but has chosen to only offer sessions to her devoted clientele. Once in a while she takes pity on those who she has not yet met and this is one of those golden opportunities.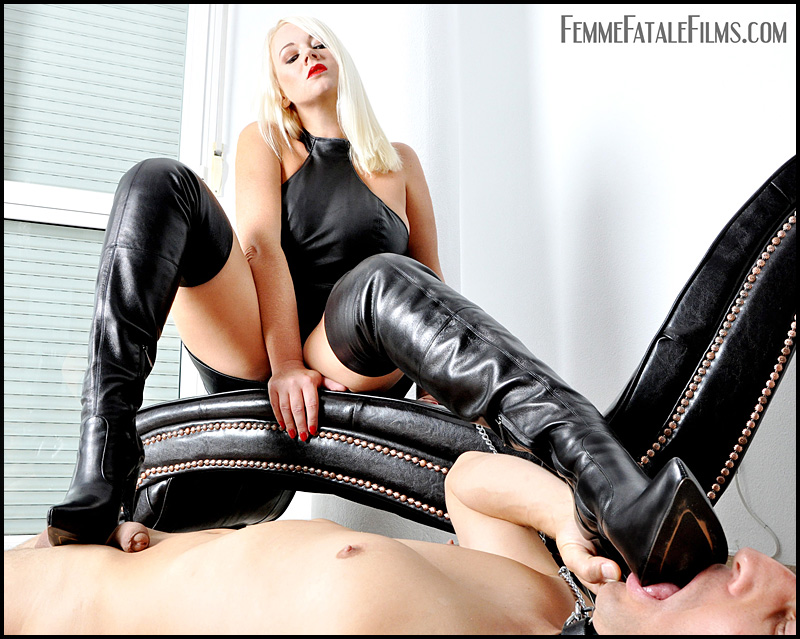 Goddess Heather Divine will be in London and available for sessions for new and old clients on December 8th and 9th. Needless to say, sessions will be limited so interested slaves should apply now to avoid disappointment. Further details available by clicking here.

Next Tuesday, the first part of 'Heels & Nylons' is released. A fortunate slave beneath Mistress Heather's feet gets to relish her sweet scented nylons, a scene she especially enjoyed with the slave squirming beneath her and then begging for more as she smothered his face and toyed with his cock and balls.
For her, fully fashioned nylons mean sheer indulgence, luxury and desire. She loves the sensation of soft silky nylons against her skin and the way they compliment her shapely feminine legs. It's amusing to see how men react when they catch a glimpse of stocking tops or a perfect seam running up from the back of sky scraper stiletto heels.
Nylons have a certain nostalgic sexiness about them and are a stalwart of the Femme Fatale. Naturally those at FFF have a multitude of movies where fully fashioned nylons feature, including the following titles, which represent just a few of the many favourites of Goddess Heather's...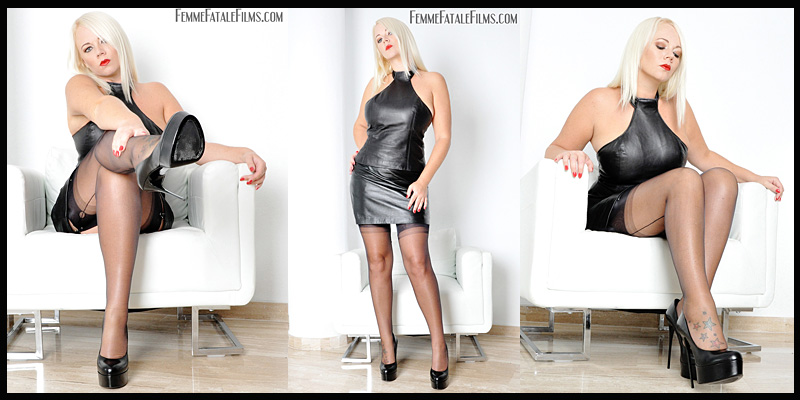 Mistress Heather in 'Heels & Nylons'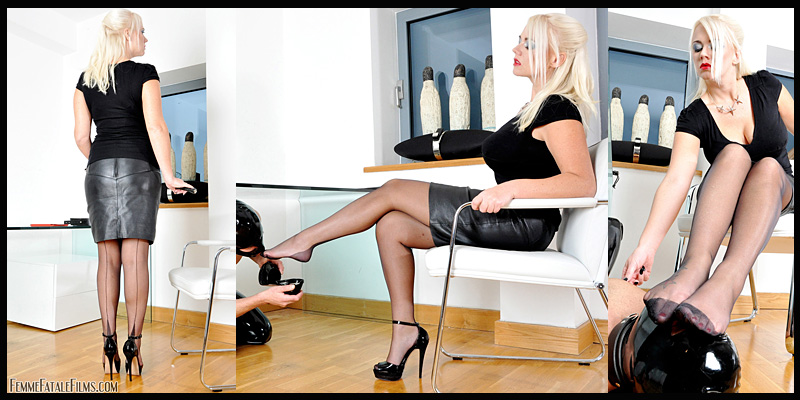 Mistress Heather in 'Office Apprentice'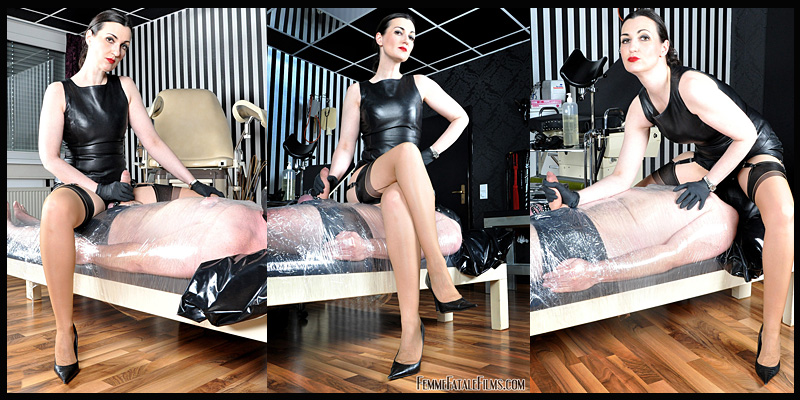 Lady Victoria Valente in 'Milking Day'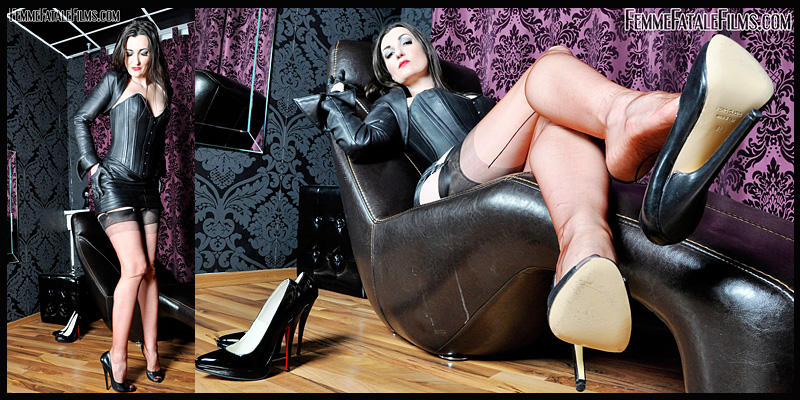 Lady Victoria Valente in 'Fragrant Feet'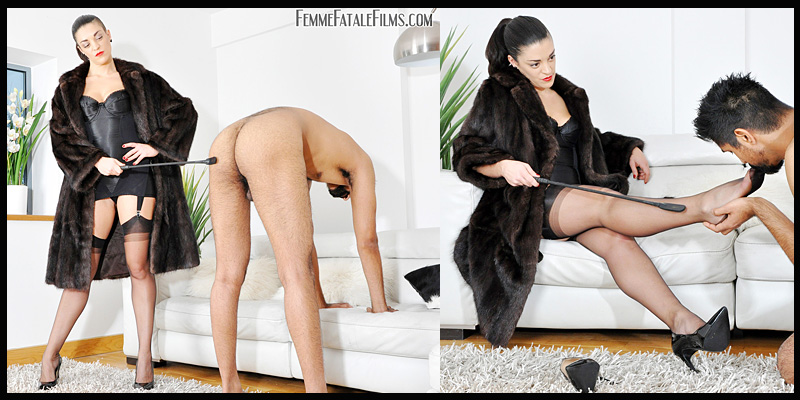 The Hunteress in 'Foot Focus'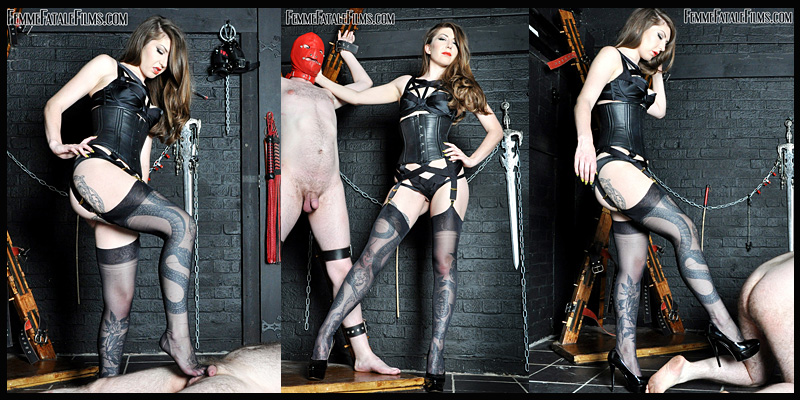 Miss Alex in 'Breaking In Balls'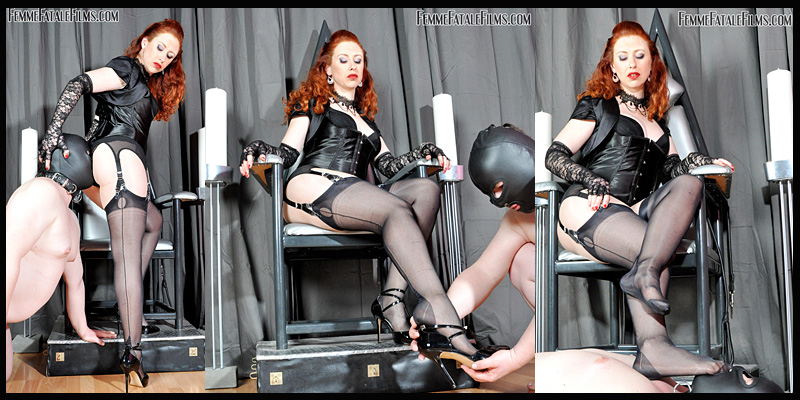 Lady Renee in 'Foot Suck & Wank'

Sexual Slavery
Miss Zoe wanted to ensnare a suitable guy for her sadistic sexual desires. This entailed luring a guy back to her apartment with the promise of mutually satisfying sex. The victim was easy to trap with her adorned in skin tight leather and boots and she used her seductive charms to keep him on the promise until she could render him truly helpless...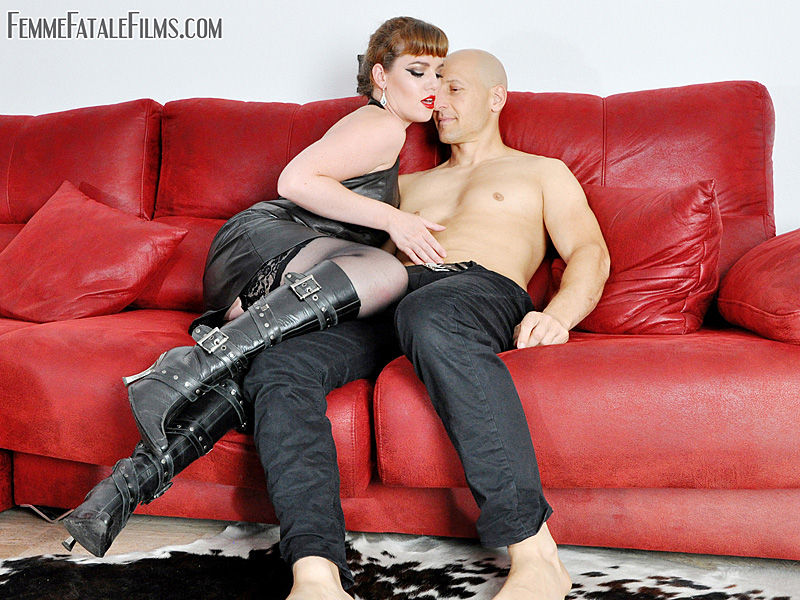 Whispering sweet nothings in his ear, he melted under her will and initially agreed to try things her way, her way being a little different to what he had in mind...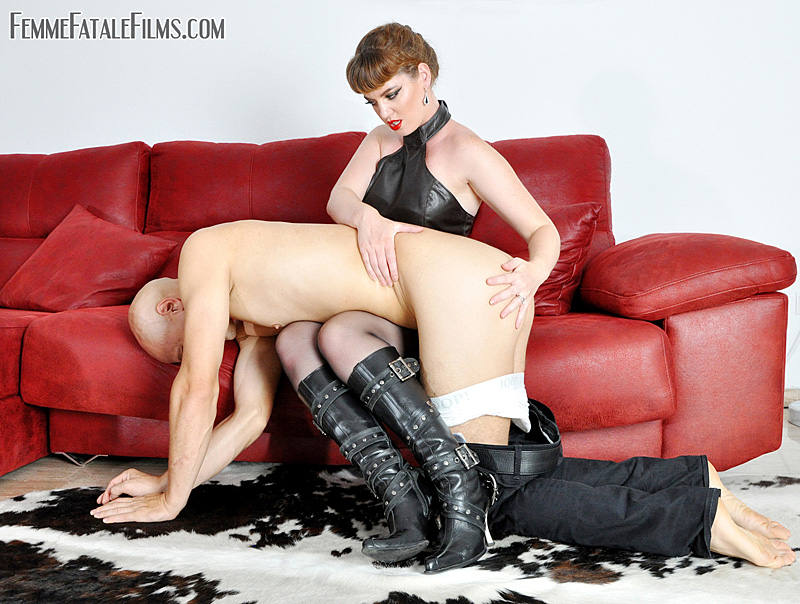 The spanking did seem a little harsh, but bent over her knee he couldn't see the sadistic look in Miss Zoe's eyes as she revelled in his discomfort and humiliation...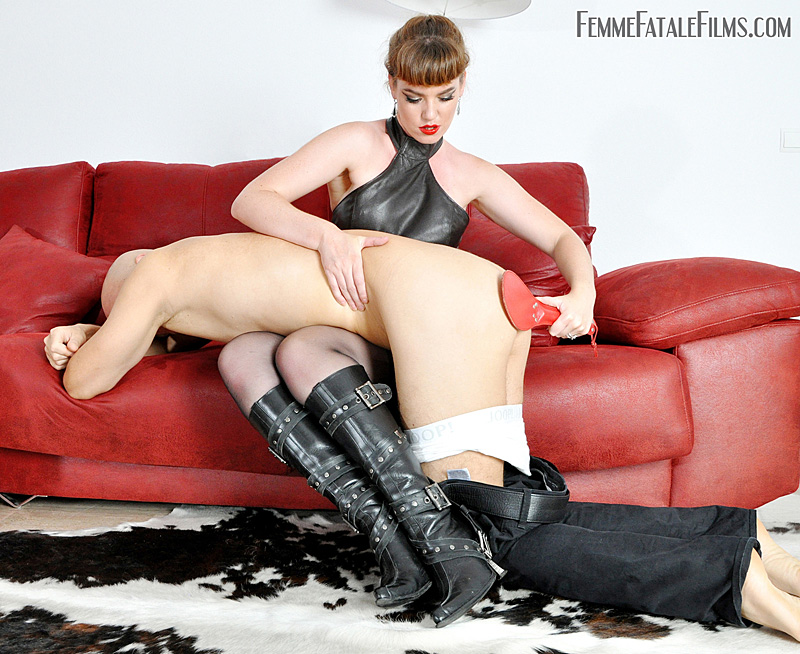 The spanking got his ass cheeks nice and pink, but she told him she wanted them fiery red and explained "that's the only thing that will get me wet" as she reached for the paddle...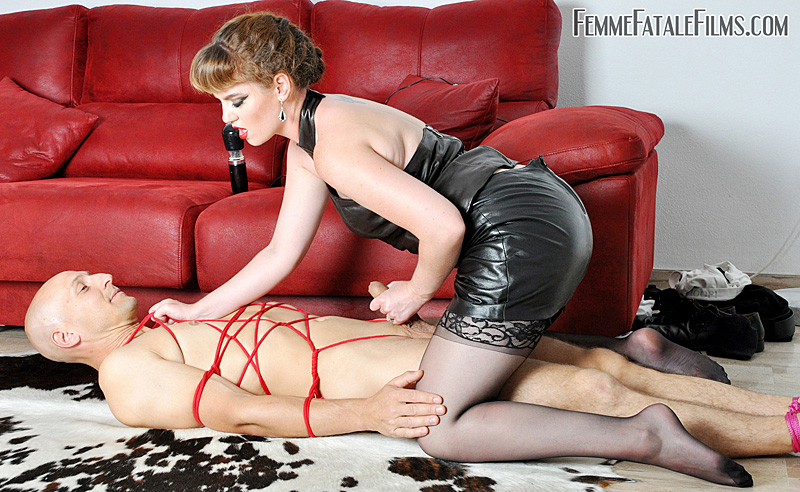 Her plan was working and he was suitably compliant, but she knew the next stage would make him less so, so she immobilised him with a little rope bondage. This would be his life from now on as her sex slave, but that's a little something she hadn't quite told him yet...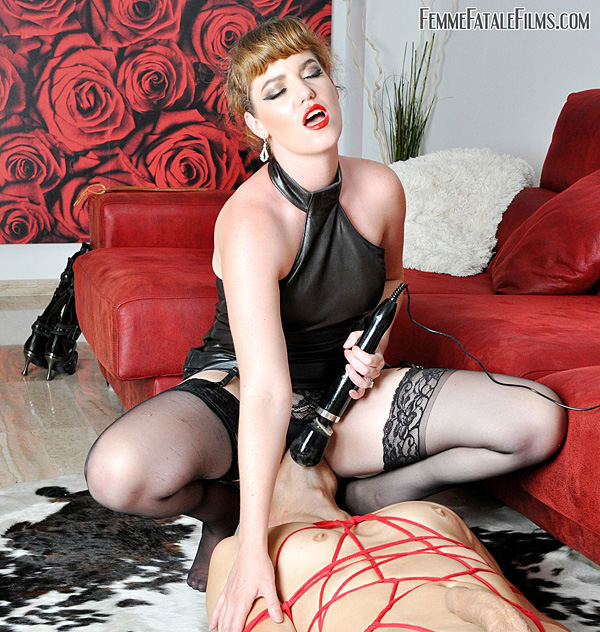 She planted her ass cheeks firmly over his face and writhed in ecstacy as she pleasured herself with the vibrator. Her sweet scent drove her captive wild, but that's all he was ever going to get, a cruel reality that Miss Zoe truly needed to get herself off...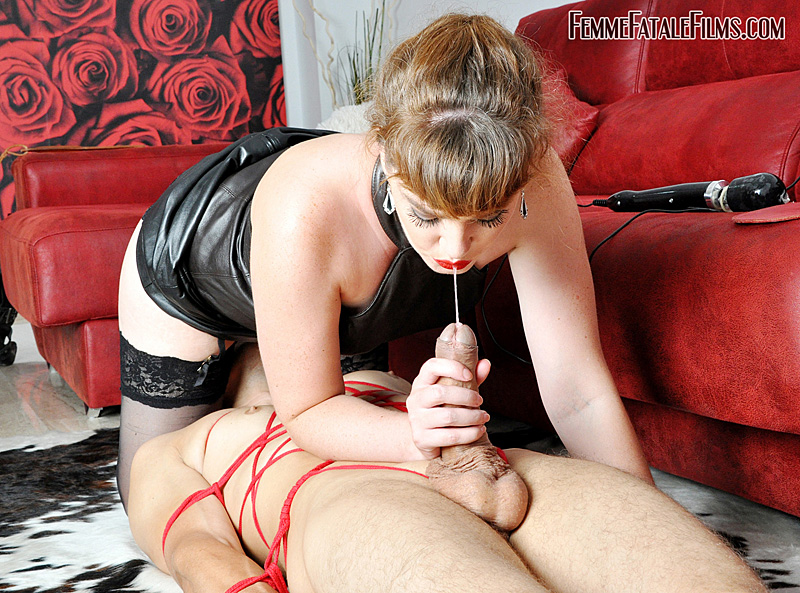 She had found a purpose in life for him now at the expense of his freedom, but just in case he didn't fully appreciate that, she initiated a milking program, just to keep his resistance at a manageable level. She wanted him weak and compliant and knew the best way to do that was to drain him at regular intervals...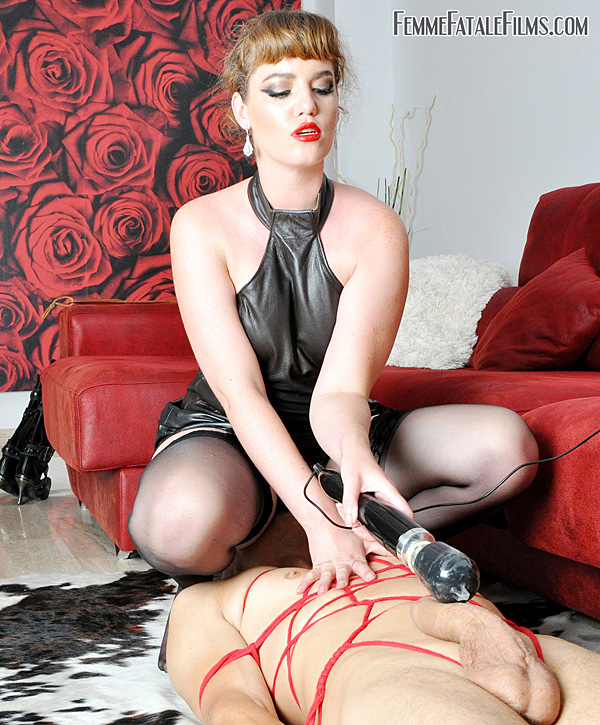 He would get all the protein he needed from his regular milking treatment and all the pleasure he could ever want from knowing that his sole purpose in life from now on, was sating the sadistic sexual pleasure of his beautiful captor. The Movie 'Sexual Slavery' is coming soon to FFF!